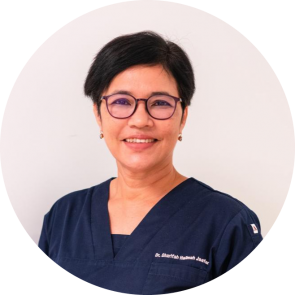 MD (Malaysia), M.Med O&G (Malaysia), AM (Malaysia), AAAM (USA)
Senior Consultant Obstetrician & Gynaecologist
---
Dr Sharifah Halimah Jaafar is a Senior Consultant Obstetrician and Gynaecologist with more than 25 years' experience managing extensive gynaecological diseases and women's health issues.
An accomplished and highly skilled surgeon, especially in advanced laparoscopic gynaecological surgery of various indications, Dr Sharifah completed her Master of Medicine in Obstetrics and Gynaecology from the University Kebangsaan Malaysia in 2001. She subsequently joined various hospitals as a Consultant Obstetrician and Gynaecology before continuing her career at the Regency Specialist Hospital from 2015.
Dr Sharifah started learning operative laparoscopy in 2003 and received hands-on training in minimally invasive surgery from many renounced laparoscopic experts locally and internationally as well as a hands-on advanced gynae-laparoscopic course in IRCAD, Taiwan. Apart from minimally invasive surgery, Dr Sharifah also received hands-on training in fertility and in-vitro fertilisation from CREST Centre, Vietnam in 2014.
Dr Sharifah completed the internationally accredited ISGE course of Bachelor in Minimally Invasive Surgery by the International Society of Gynaecological Endoscopy (ISGE) in 2018. In 2020, she completed an accredited diploma course in Minimally Invasive Surgery by the University of Schleswig Holstein-Keil Germany and has recently completed a Master of Science in Pelvic Anatomy Landmark and a Master in Surgical Management of Deeply Infiltrating Endometriosis from MIS Academy led by Prof Dr Arnaud Wattiez, a pioneer of laparoscopy in the Obstetrics and Gynaecology realm.
Dr Sharifah is affiliated to and a member of many well-known medical organisations, including as the Chairperson for the Malaysian Obstetrics and Gynaecology Society Gynae-Endoscopy Subcommittee for 2021/2022, a member of the Asia Pacific Association of Gynaecological Endoscopy and MIS Academy, and a life member of the Gynaecological Endoscopy Society of Malaysia. She is also the Medical Advisor for the Endometriosis Society of Malaysia and a Board Certified Aesthetic Physician by the American Academy of Aesthetic Medicine, USA.
Dr Sharifah believes that every woman deserves a dedicated and compassionate doctor who not only provides quality care and evidence-based practice but is also a confidante and true friend.
---